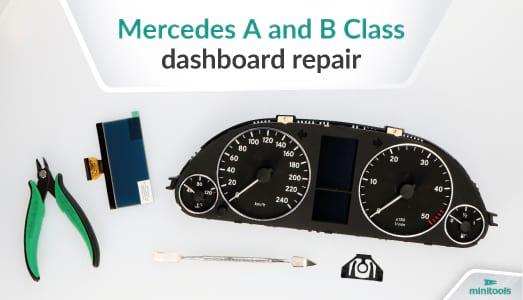 MERCEDES A CLASS AND B CLASS DASHBOARDS: PROBLEMS AND SOLUTIONS
Several factors may cause instrument cluster problems on Mercedes A-Class W169 and C169 (models from 2004 to 2012) and Mercedes B-Class W245 (models from 2005 to 2011). The most common causes are temperature fluctuations or instrument cluster wear. These give rise to the following problems:
Minitools team has carefully studied the causes and problems affecting these dashboards and has come up with several solutions. These are explained and set out below.
What should you do when your Mercedes dashboard display isn't working?
The solution for repairing Mercedes A Class and B Class dashboard displays is to replace the dashboard display.
Usually, when the Mercedes instrument cluster display is off or faded, the immediate reaction is to replace the entire instrument panel but Minitools part SEPDISP08-7V allows you to keep the car's original dashboard and only replace the defective display with a new Minitools LCD display.
To repair Mercedes A Class W169, Mercedes A Class C169 and Mercedes B Class W245, remove the Mercedes instrument cluster from the dash, disassemble it and follow the instructions for fitting a new Minitools display, which you can find on this PDF.
To guide you through the repair, Minitools technicians have made a detailed DIY tutorial about how to fix Mercedes W169 / C169 and W245 speedometers with blank or faded display:
Mercedes-Benz A-Class W169 and B-Class W245 instrument panel LCD pixel repair – DIY tutorial
Once you have replaced the display, all you have to do is refit the Mercedes instrument panel in the car.
What should you do when your Mercedes dashboard R button isn't working?
Firstly, the malfunction of the R button, positioned in the lower left-hand side of the dashboard, is due to failure of the plastic part into which the button is inserted. This consists of a central part and two tabs that allow the button to be pressed and turned right and left. When one of these plastic parts breaks, the Reset button won't work properly.
When the Mercedes instrument cluster Reset button isn't working, this means that the dashboard display lighting can't be adjusted, and you can't reset the trip counter, set the time or display information, including tyre pressure and so on.
Minitools part SEP-P001 has been created to fix this problem. This is the only part on the market that can be used to repair the Reset button.
To carry out this repair, Minitools has produced a short video giving detailed instructions on fitting part SEP-P001 and repairing the R button on Mercedes A-Class W169, Mercedes A-Class C169 and Mercedes B-Class W245 dashboards.