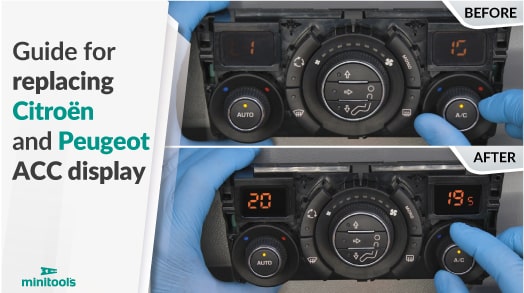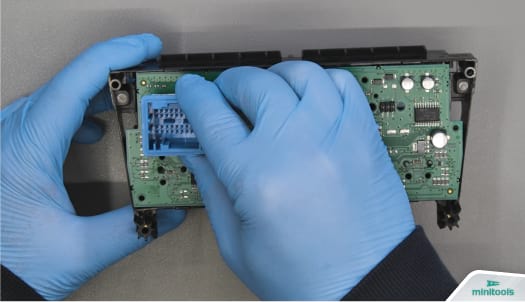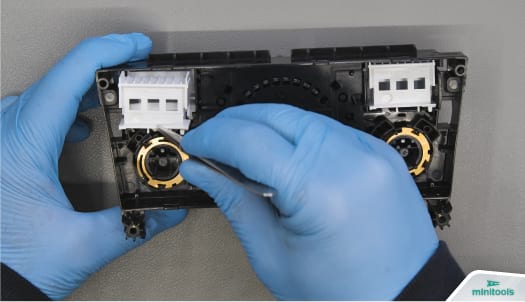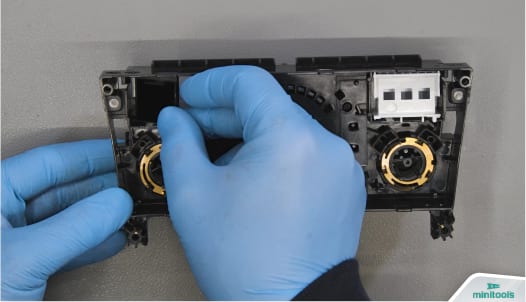 GUIDE FOR REPAIRING CITROËN AND PEUGEOT ACC MODULE
Citroën C3 Picasso, Peugeot 3008, 308, 408, 5008 and RCZ dual zone climate control panel LCD display replacement
Is the Peugeot 3008 climate control display faulty? is the Peugeot 308 ACC temperature display missing segments? Are the numbers on the Peugeot RCZ heater control unit fading? Is the Citroën C3 Picasso air conditioning panel screen difficult to read?
The following guide will explain how to repair the automatic heater control module of several Citroën and Peugeot models, replacing both faulty screens with two pieces of the Minitools display SEPDISP73.
Unhook the latches with the aid of the spudger to open the back cover.
Remove the PCB.
Remove the plastic bases and then the two screens with the tweezers, making sure not to dispose the white back films.
Detach the conductive rubber strips.
Remove the protective films from the first Minitools display.
Place it, reinsert the original white film, the display plastic base, and then the strip.
Repeat the procedure with the second display.
Reinsert the board, and the back cover.
Perfetto! Problem solved.