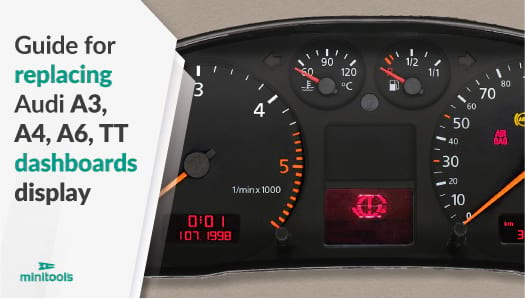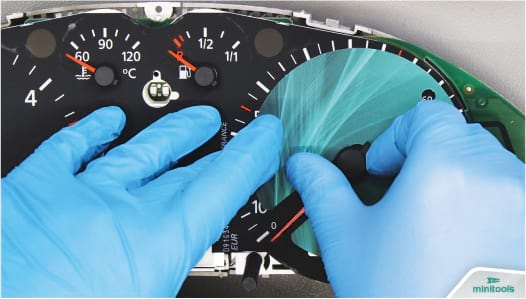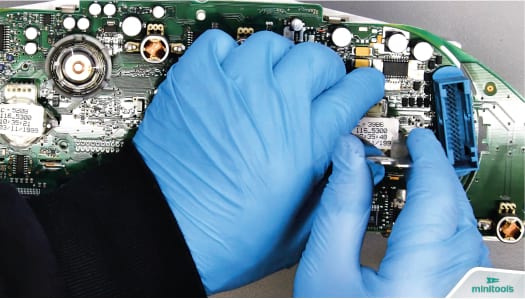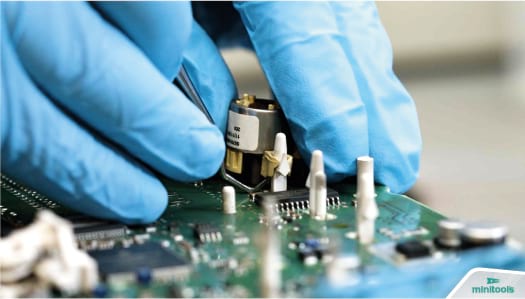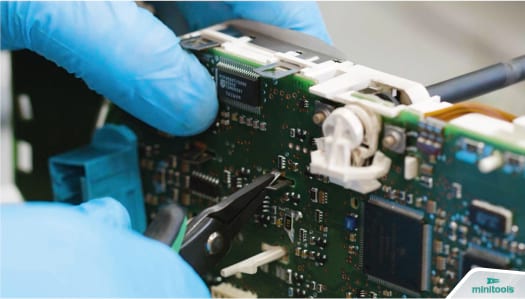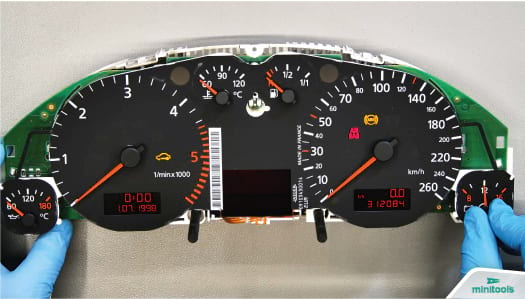 GUIDE FOR REPLACING AUDI A3, A4, A6 AND TT INSTRUMENT CLUSTERS HALF FISS DISPLAY
How to repair Audi A3 8L, Audi A4 B5 / 8D, Audi A6 C5 / 4B and Audi TT MK1 / 8N Jaeger and Magneti Marelli dashboards with unreadable display
Is the Audi A4 B5 instrument panel display unreadable? Is the Audi A6 C5 speedometer display fading? Is the Audi A3 8L dashboard screen blank? Is the Audi TT 8N instrument cluster display not working? Replace it with Minitools display SEPDISP09.
Often, those instrument panels LCDs can have failing or dead pixels, fade, go blank or show flickering segments, and therefore be difficult or impossible to read.
The following guide will explain how to fix Jaeger and Magneti Marelli instrument clusters of Audi A3 8L (1996-2003); Audi A4 B5 / 8D (1994-2001); Audi A6 C5 / 4B (1997-2004); Audi TT 8N (1998-2006), replacing the original display with Minitools part SEPDISP09
. Undo the back screws of the cluster and, with the aid of the 
spudger
, release the front part. Fit the 
gauge overlay protective disc
 under the speed and RPM needles and remove them rotating them anticlockwise. With the aid of the 
gauge face protective disc
 and the 
spudger
, remove the smaller pointers which will be gently lifted and pulled out. Take off the back part as well. To remove the two larger stepper motors, insert the 
tweezers
 in the respective side holes, then bring them closer as shown (SEE GALLERY). The smaller motors will be pulled out with the aid of the 
curved tip probe
. Undo the metal frames of the side screens and the plastic clips. Release the board. Remove the reset button. Release the screen from its base. De-solder the FPC with a hot air de-soldering iron. Using a soldering iron with chisel tip and 
de-soldering braid
, remove any residual solder. Clean with some solvent. Starting from the first pin on the left, position the FPC of the Minitools display 
leaving 1 mm gap
 as shown (SEE GALLERY), and secure it on the board with a few soldering spots.
N.B. Using flux is not recommended.
Then, solder it one pin at a time with a soldering iron with needle tip and thin solder wire*.
*0.3 mm solder wire
Clean with solvent Peel the back film off the new display and fit it in its base. The FPC has to be folded gently underneath as shown (SEE GALLERY). Remove the front film of the LCD as well. Insert the reset button. Fit the board to the front base with the gauge overlay and secure it. Put each motor back gently pressing them. Then, fit the back part of the cluster. Switch on to the dashboard. With the cluster switched on, insert the pointers in their original place, the voltmeter one has to be placed directly pointing 12 V (SEE GALLERY). Switch off and then back on the cluster, to check the correct positioning of the needles. Fit the front part. Perfetto! Problem solved.