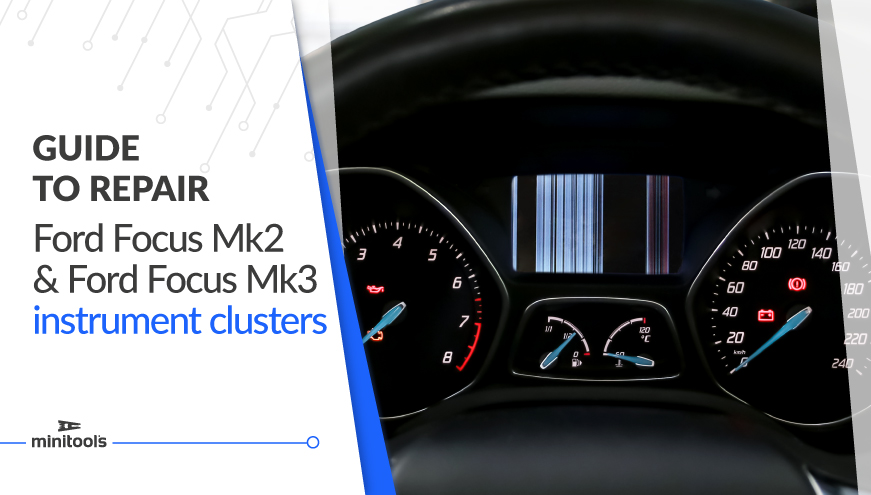 Ford Focus instrument cluster repair – The Minitools solutions
How to repair the dashboards of Ford Focus Mk2 (2007-2011) and Ford Focus Mk3 (2011-2018)
The instrument clusters of Ford Focus 2nd generation (post facelift models from 2007 to 2011) and 3rd generation (models from 2011 to 2018) often have problems to the information display, which could be blank, not working, or unreadable.
In this article we're going to analyse the causes of Ford Focus instrument cluster problems, both for Ford Focus Mk2 and Mk3, explaining how to fix them simply and quickly.
Ford Focus 2nd gen (2007-2011) dashboard repair
Often on the second series models the Ford Focus dash information display is not working, blank, has lines on it or lights up but does not show any info on it. This is a common fault both on Ford Focus instrument clusters with "small" information screen, which is usually found on basic and intermediate trims, and on instrument clusters with "large" information screen, common on higher trims. In both cases the solution that gets usually offered is Ford Focus instrument panel replacement, which can be quite expensive. Minitools offers an alternative solution: replacing the LCD display. Ford Focus LCD display problems are caused only by a malfunction of the LCD itself, which can be simply replaced with the following Minitools displays:
SEPDISP32 for dashboards with "large" display (size: 72x82mm);
SEPDISP33 for dashboards with "small" display (size: 65x49mm).
Ford Focus dashboards LCD screen replacement is less expensive than replacing the entire instrument cluster and does not need any programming.
Our technicians made two video tutorials about how to replace the information display of Ford Focus dashboards, which can be helpful for the repair:
Ford Focus LCD screen replacement – large display
Ford Focus LCD screen replacement – small display
To purchase the displays for repairing Ford Focus Mk2 instrument clusters
Ford Focus 3rd gen (2011-2018) dashboard repair
Ford Focus third series models show problems to the instrument cluster similar to the previous one; in fact, the dashboard display may be completely blank or act odd, showing some vertical lines on it and therefore be unreadable. Again, in this case the solution that gets offered is replacing the instrument cluster, which, as we already said, can be expensive. So, if Ford Focus driver information display screen is not working or unreadable, there's no need to replace the whole instrument panel, but only the failing LCD screen, fixing the fault on Ford Focus Mk3 dashboard. We have the solution both for instrument clusters with monochrome display and for those with colour display:
SEPDISP59 display fixes Ford Focus instrument clusters with monochrome display;
SEI-DISP126 display fixes Ford Focus dashboards with colour display.
As for second series models, replacing the LCD display does not need any programming and is less expensive than getting a new instrument cluster.
Our technicians made a video a tutorial about how to replace Ford Focus dash driver info screen:
Ford Focus Mk3 dashboard colour display replacement
To purchase the LCD screens for repairing Ford Focus 3rd generation dashboards
So, here's why Ford Focus LCD displays are not working and how to fix the issue, for any question feel free to contact us by e-mail at [email protected]