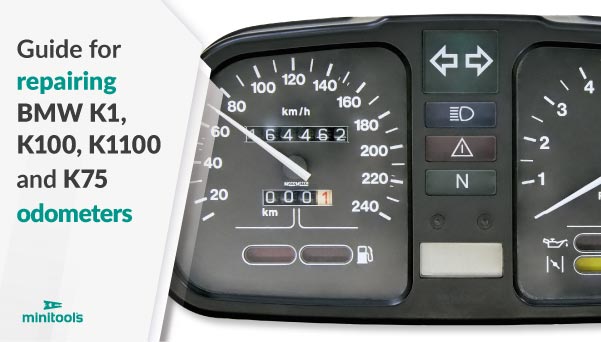 BMW K1, K75, K100, K1100 LT and K1100 RS odometer repair
How to repair BMW K75, K1, K100 and K1100 instrument clusters trip meter and odometer replacing the failing odometer gears
BMW K100 odometer stopped working? Issues with BMW K75 trip meter?  BMW K1100 odometer not working? Issues with BMW K1 instrument cluster odometer?
This issue with BMW K100, K1100 LT, K1100 RS, K1 and K75 instrument clusters odometer and trip meter is related to worn, broke or failing gears / cog wheels inside the gauge.
Minitools has the solution: repairing BMW K1100, K100, K1 and K75 instrument panels odometers, replacing only the odometer cog wheels.
With the following Minitools replacement gears is it possible to repair BMW K75, K1, K100, K1100 RS and K1100 LT dashboards odometer and trip meter:
To help you fixing BMW K bikes speedometer odometers, Minitools technicians have realized a step by step guide, explaining in detail how to replace BMW K1100 RS, K1100 LT, K100, K1 and K75 instrument clusters odometers cog wheels:
BMW K100, K1100 LT, K1100 RS, K75, K1 speedometers odometer repair – step by step guide
Remove BMW instrument cluster from the bike;
Undo the rear screws of the panel with a Phillips screwdriver, then remove the plastic cover;

Undo all the side screws and then, with a flathead and a nut spinner screwdriver, the screws and the bolts securing the odometer gauge;
Unplug the connector and pulling the side knob remove the front cover;

Place two gauge face protective discs underneath the speedometer needle and undo the small black screws;

Take out the gauge and place it on a support;
Remove the clear plastic cover;
Remove all gears and, with a flush cutter, any residue;
ATTENTION! Do not damage the brass bushing on the shaft!
If the brass bushing gets damaged or broken, use the gear SEP-R77 instead of the SEP-R14.

With the aid of a flat tip probe, carefully remove any plastic residue from the brass bushing;
Clean the other metal shafts as well;
Put the SEP-R14 gear onto the shaft and fit it properly using the SEP-INS02 tool (ATTENTION the shaft has to touch the end of the SEP-INS02 slot, and the bolt has to be perfectly perpendicular to the gear SEE GALLERY);

Put back the clear cover and secure it;
Place the gauge into its housing, tighten the screws and remove the protective discs;
Pulling the side knob, fit the front cover;
Bring the partial odometer to zero rotating the knob;
Plug back the connector on the rear side of the panel;

Fix the gauge tightening the screws and the three bolts first, then all the side screws;
Fit and secure the rear cover;
Test the dashboard;
Perfetto! Problem solved!
To help you through the repair, Minitools technicians have made a video tutorial about how to fix BMW K1100, K100, K1 and K75 trip meter and odometer:
BMW K1, K75, K100, K1100 instrument panels odometer repair – DIY tutorial
To purchase BMW K bikes odometer gears,